| | |
| --- | --- |
| 24 January 2014 | Cleaning Wood Flooring Properly |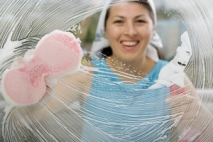 The most beautiful way to clad a floor is in real wood flooring, but of course every luxury has it's impracticalities, and in this case, you will often find that having a wooden floor will mean that you have to care for it a lot more than you would other materials and surfaces. Knowing exactly how to treat your floor will often be the kind of knowledge imparted to you by whoever laid it, but many people will not have been the person who dealt with this, and therefore it is very wise to look in to getting a professional floor cleaning expert in, to ensure that nothing goes horribly wrong, leaving you with an expensive mistake on your hands! The fact is, wood is very susceptible to certain chemicals, and being overly exposed to water, so you really do need to know what you are doing!
There are many ways in which to clean a wood floor, but the most popular, and safe is mopping. You can by hard wood floor cleaning products in the supermarket, and you simply add a couple of capfuls of this to the water in your bucket, before mopping as usual. Be sure that you know the name of the wood used in your flooring, so that you know exactly what to look out for, should there be any warnings on the bottle as to incompatible materials. You will often find that the mopping leaves the floor a little duller than it could be, simply do to a little residue drying out from the water. In this case, you need to polish the floor, which can be done by hand with a rag, or with a buffing machine. Sometimes, buffing machines can be used to clean the floor itself, you just need to have the right settings and washing pads. Every floor is different however, so you need to research the materials and machines involved in your circumstance, or just get a professional floor cleaner in to get the job done properly!
One of the most effective ways of cleaning a floor and getting rid of all scratch marks, water stains and any other issues, is to have the whole thing sanded down and re-finished. As you can likely imagine, this is an expensive and time consuming process, that you need to have done by a well trained professional. There are plenty of these about, so ensure that you get a good range of quotes to avoid missing out on a great deal! The nature of the process involves sanding down the floor, past the current layer of polish, which should mean that the wood that is stained or scratched will be removed completely, leaving you with a fresh grain showing. This is then re polished, which should leave you with a beautiful, new looking floor. Protective polishes need to be used as well, to ensure that this process does not need to happen very regularly, as it can get rather expensive otherwise!
If you are good with the maintenance and upkeep of your wood flooring, then there is no reason as to why you would need to sand and polish it very often. Be aware of scratches when you see them, and dab a bit of teak stainer in there, to reduce the appearance quickly. With light wood flooring, scratches can often be reduced with your regular floor polish, making the whole surface look more uniform overall.